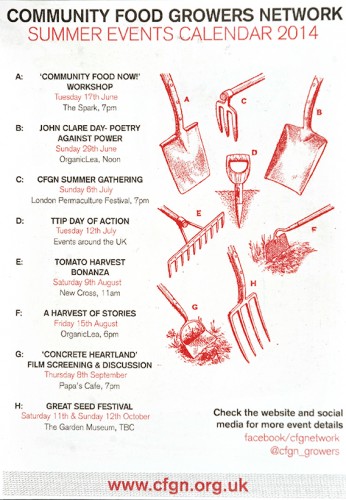 A. 'Community Food Now!' Workshop
Tuesday 17th June, 7pm
– – –
With nearly 80% of the UK population living in an urban environment the Food Sovereignty Movement UK and the Community Food Growers Network will explore how we can build community-controlled land and food systems in the UK, and if this is even possible in cities.
Showing short film clips from global food struggles and presentations from UK urban food projects, the workshop will focus on the questions:
'What is food sovereignty?'
'Where are we now?'
'Where do we want to go next and how do we get there?'
(This workshop is run in collaboration with the UK Food Sovereignty Movement as part of a wider series of events in the lead up to a Summer gathering in 2015).
*
*
*
B. John Clare Day- Poetry against Power
Sunday 29th June, Noon-4pm
OrganicLea, 115 Hawkwood Crescent, Chingford, E4 7UH
– – –
Join Organiclea for a site tour exploring the writings and legacy of the 'peasant poet' John Clare.
12-4 / Lunch £3 / Tour from 2pm
*
*
*
C. CFGN Summer Gathering
Sunday 6th July, 11am-12.45pm
London Permaculture Festival– Cecil Sharp House, Camden
– – –
Seasonal gathering to hear updates from different community food projects and make plans for the network in the coming months.
CFGN will also be running a stall at the festival during the day and be running 'Horticultural Games' in the afternoon
*
*
*
D. TTIP Day of Action
Tuesday 12th July
– – –
War on Want is running a national tour with the Rosa Luxemburg Foundation, UNISON, WDM and other partners to raise awareness and take action against the Transatlantic Trade and Investment Partnership (TTIP). Currently being negotiated in secret between the EU and USA, TTIP is set to be the biggest transfer of power to transnational capital that we have seen in a generation, and it is up to us to stop it. There is already a major campaign against TTIP across continental Europe, and we need to build one in Britain too.
*
*
*
E. Tomato Harvest Bonanza
Saturday 9th August, 11am-6pm
St James's, SE14 6AD, New Cross Gate (a little street next Goldsmiths University)
– – –
– LIVE music
– FREE children's activity (face painting, card making, clay workshop, painting wooden plant pot holders, collage making, yoga)
– Alternative show gardening ("how to grow without garden")
– Vintage Book Sale (by New Cross Learning)
– Vinyls (Spotty Vinyl Records)
– Handcrafts
– Local Food
– Raw food – promoting and representing raw food
– Hungarian tomato stew ("lecso")
For full listing follow this link
*
*
*
F. A Harvest of Stories
Friday 15th August, 6pm-10.30pm
OrganicLea, 115 Hawkwood Crescent, Chingford, E4 7UH
– – –
A four-course feast of local food unraveling the stories of creativity, resistance and celebration carried by the plants on our plates.
email: adam@organiclea.org.uk for bookings and prices
*
*
*
G: 'Concrete Heartland' Film & Discussion
Thursday 8th September, 7pm (Food) 7.45pm (Film)
Papa's Cafe, 10-17 Pulross Road, Brixton, SW9 8AF
– – –
Concrete Heart Land exposes the social cleansing of the Heygate Estate in Elephant and Castle, South London. It marks the moment that the estate was fnally lost as social housing to make way for an unjust 'regeneration' scheme.
The film will be followed by a discussion about the affects of gentrification in London and how community food growers can work with communities fighting to defend their homes and communities.
*
*
*
H. Great Seed Festival
Saturday 11th & 12th October, TBC
The Garden Museum, 5, Lambeth Palace Rd, London SE1 7LB
– – –
The Great Seed Festival will be a celebration of meeting and learning with other London seed savers. More information to come.