NORTH LONDON:
Common Ground (SOAS)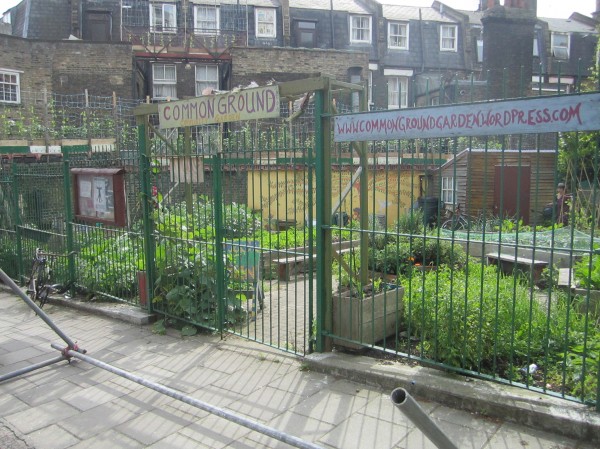 Currently in its 5th year, the Common Ground project was started and continues to be run by a group of SOAS students. Although students are notorious for being unavailable around peak study times, these remarkably succeed at keeping the project running through the seasons – although not without the help of members of the local community. Perhaps most importantly, the garden is also used by local residents, schoolchildren, and others who come by to lend a hand with the gardening or just to hang out. Together, they learn the skills needed for growing food as they go along, and reap the benefits by enjoying the produce and the space together in this great central location.
Open days: Wednesdays and Sundays, 2-4 pm.
Website/contact: http://commongroundgarden.wordpress.com/tag/soas-garden/
facebook: https://www.facebook.com/groups/340854252681357/
Community Centred Knowledge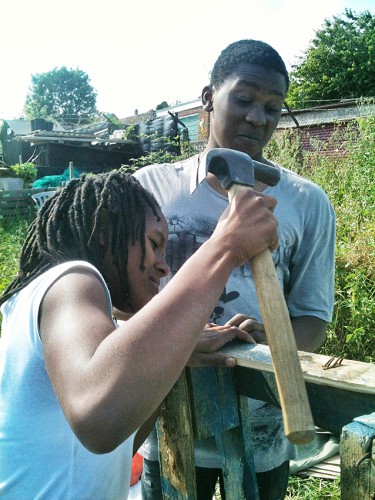 Community Centred Knowledge is an emerging social and cultural movement which gives voice to the community, family and individual through Ubuntu consciousness.  We are an Earth Steward community.  Community Centred Knowledge is both whole-earth and intergenerational in its approach. It is aligned to the indigenous mind and recognises the value of the feminine perspective in progressive and Earth centred thought.
We are community and because we affirm Ubuntu as a core philosophy, we engage with community members to share,
exchange and celebrate knowledge. This knowledge is informed and filtered through and by community experience and so is iterative and adaptive in nature and relevant at different scales of community organisation.
You can tweet with us @Indigenousknow on twitter and we will be sharing our forthcoming blog and website with you soon.
Contact: communitycentredknowledge@gmail.com
Our Blog can be found at: https://communitycentredknowledge.wordpress.com/about/
Our G+ pages are at: https://plus.google.com/communities/107659509528356284479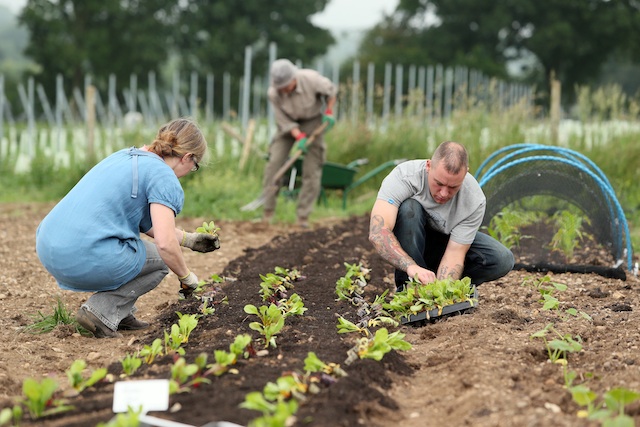 Forty Hall Farm (http://www.fortyhallfarm.org.uk) is an organic farm in Enfield, on the outskirts of London. It's run by Capel Manor College,a further education college specialising in learning about the environment.
Forty Hall is a mixed farm with a variety of animals, including many rare breeds. It is home to London's only organic commercial vineyard, the Forty Hall Community Vineyard, as well as a thriving community orchard, a forest garden and a new market garden.
The Farm provides educational opportunities for Capel Manor's students, as well as hosting events like our annual Lambing Weekend.
Living Under One Sun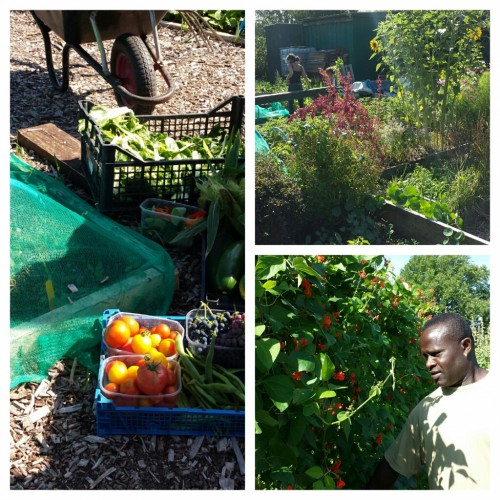 Living Under One Sun Community Allotment is and organic food growing site in the heart of Tottenham which offers a range of training and volunteering opportunities. We teach, Herbal Medicine, Bee Keeping and Practical Horticulture. Furthermore, through volunteering with us you can gain practical experience in; managing crops organically form seed to harvest – including crop rotation and soil care, working as part of a team and community leadership skills, practical carpentry skills, recycling and sustainability strategies and the importance of the local food economy.
We recognise the importance of connecting with nature in supporting individual and social well-being and are committed to bringing nature closer to the community.
Website: http://www.livingunderonesun.co.uk/
Organiclea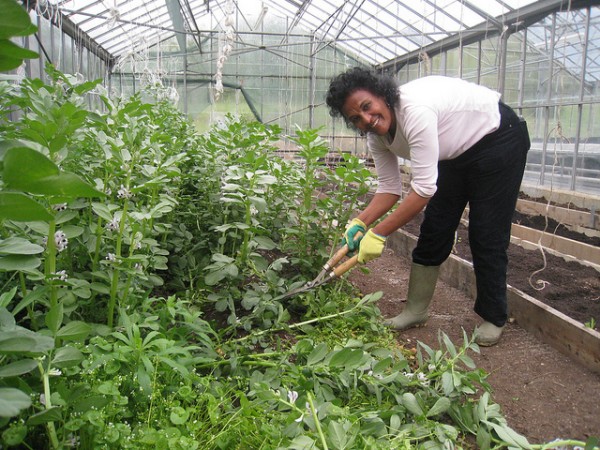 Organiclea began in 2001, with the idea that more food can and should be grown locally, and the agreement to take on an acre of once-derelict allotment land situated on the edge of Epping Forest in the river Lea's valley. Later, they went on to take over the plant nursery that Waltham Forest closed down, as well as developing orchards and a vineyard. Organiclea currently runs a local box scheme as well as a market stall at the Hornbeam Centre, which provides a physical base for a local food scheme in Waltham Forest. They provide training opportunities for those with or without growing experiences and regular volunteering opportunities.
OrganicLea runs an open day the last Sunday of every month. They are located at 115 Hawkwood Crescent, Chingford, E4 7UH.
Website:  www.organiclea.org.uk
Contact: info@organiclea.org.uk
EAST LONDON:
Audacious Veg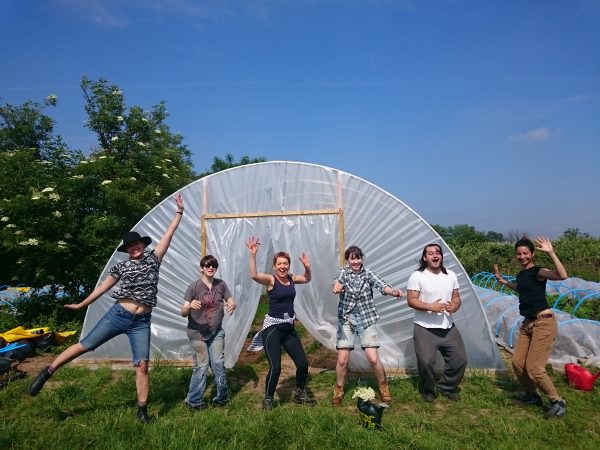 Audacious Veg is a bold new social enterprise creating training & employment opportunities for local young adults through urban agriculture.
Our socially responsible business model addresses the need for skills and employment in northeast London, while meeting a growing demand for local food. Young adult trainees at Audacious Veg will grow delicious and sustainably produced food for London restaurants, while earning London Living Wage and accessing skills that will help them find employment after the traineeship. We also offer volunteer placements for recently arrived refugees, creating opportunities to build community, practice english and access training and support services.
Website: www.audaciousveg.org
Contact: follow link
E2 Collective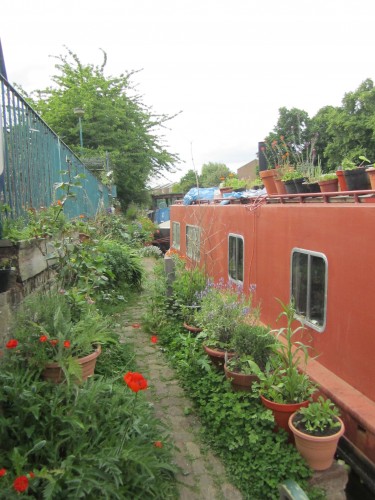 When the boat dwellers of the E2 Collective got planning permission for permanent residential moorings opposite Victoria Park, one of the planning conditions was to build a community garden. The garden, which includes food growing areas and wild flowers, as well as the ancient wharf wall, was created behind the Canal Club community centre on Waterloo Gardens E2, on an area with a history of neglect and abuse. This was all built at the beginning of 2011 and now features plants for sale, a cob stove and a beautiful and relaxed environment in a beautiful canalside location.
The E2 Collective Garden is located at Belmont Wharf, Waterloo Gardens, Tower Hamlets E2 9HP, Behind the Canal Club community centre on Waterloo Gardens
Contact: https://www.facebook.com/canal.club.community.garden
Open Days: Wednesdays 2-5 PM during growing season.
Get Growing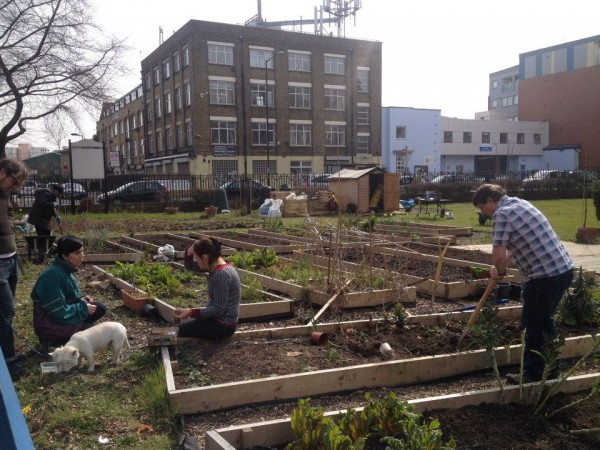 Currently working in Hackney and Brighton, Get Growing is a social enterprise that trains people to grow food in their own homes and communities using organic methods and permaculture design.
Website: http://www.getgrowing.org.uk/
Contact:  info@getgrowing.org.uk
Growing Communities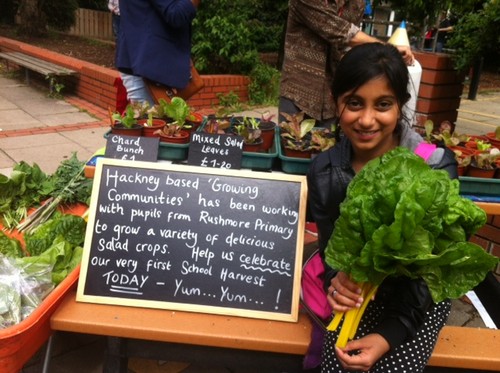 Growing Communities has pioneered urban food growing as a key part of our efforts to build a more sustainable food system.
We grow Hackney Salad on our Patchwork Farm, made up of 12 small market gardens in Clissold Park, Springfield Park, Allens' Gardens and other patches on estates, church land and private gardens – all in Hackney, North London. We also have Dagenham Farm in East London. You are welcome to visit the sites – click on the links above.
All our growing space is certified by the Soil Association – ours was the first organically certified food-growing land in London. In Hackney, we specialise in salad leaves and we are the only London fruit and veg bag scheme to include organic salad grown in Hackney in our vegetable bags. We employ a part-time grower, Sophie Verhagen, who is assisted by trainee growers and a volunteer workteam. In Dagenham, our grower Alice Holden and her volunteer team grow a far greater range of produce.
Growing Communities run a weekly farmers market, support communities to set-up community-led vegetable box schemes, and run a trainee scheme for new growers.
Website: http://www.growingcommunities.org/
Contact: 020 7502 7588    growcomm@growingcommunities.org
Growing Communities Patchwork Farm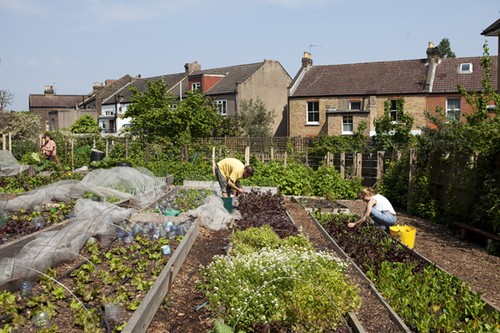 The Growing Communities Patchwork Farms currently comprise 12 sites across Hackney. The Patchwork farms were started by people who have come through the Growing Communities Apprenticeship Scheme and grow food to sell to the weekly box scheme and other outlets. With help from the Big Lottery's Local Food Fund, Growing Communities supports the sites through providing them with tools, equipment and advice. The aim is to increase locally and sustainably grown food and help growers generate an income from food production.
Website: http://www.growingcommunities.org/food-growing/patchwork-farm/
Contact:
The Old Fire Station, 61 Leswin Road, London N16 7NX
020 7502 7588
growcomm@growingcommunities.org
SOUTH LONDON:
May Project Gardens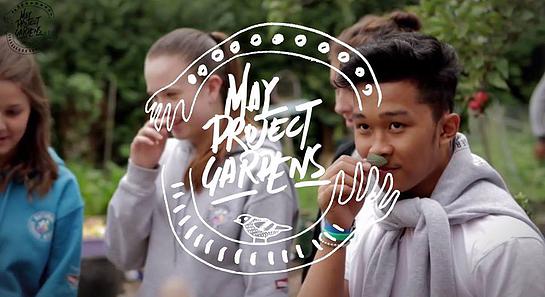 May Project Gardens is situated in the suburbs of Morden in South London. The Project was founded in 2009 with the aim of bringing communities closer together through ecological and ethical activities. The site has approximately 250sqm of growing space where a variety of fruits and vegetables are grown by individuals who volunteer their time to help keep the project going. The site was designed using Permaculture principles, advocating working with nature not against her to fulfil our needs, and great  emphasis is placed on reducing waste and increasing efficiency. We have a medium sized polytunnel, a small herb garden, two large main crop beds, a wildlife zone (which includes a pond and a wild flower bed), a small food forest garden and four different composting systems.
The main aim of May Project Gardens is to bring communities closer together to act collectively. The project provides access to the tools necessary to educate communities about the issues that affect the environment and as a result the effects they have on those inhabiting the planet.
Website: http://mayprojectgardens5.wix.com/may-project-gardens
Contact: mayprojectgardens@gmail.com
Papa's Park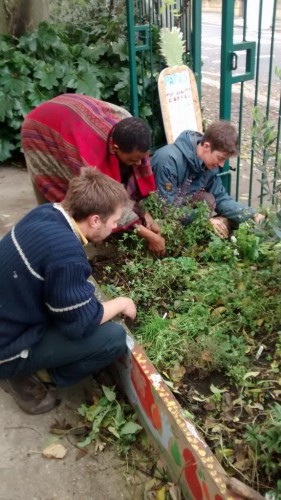 Papa's features organic growing spaces, a children's playground and a café serving great food at affordable prices. People in the local area have come together to fight against the odds to keep this space available to the community, and great all-ages events make Papa's park a great space for families.
Papa's Cafe is open five days a week, Wednesday through Sunday, with indoor seating and baby-changing facilities available. Opening hours are 10am-5pm Wednesday – Saturday, and Noon-5pm on Sundays. It is located at 10-17 Pulross Road, SW9 8AF.
Website:  http://papaspark.org/
WEST LONDON:
Granville Community Kitchen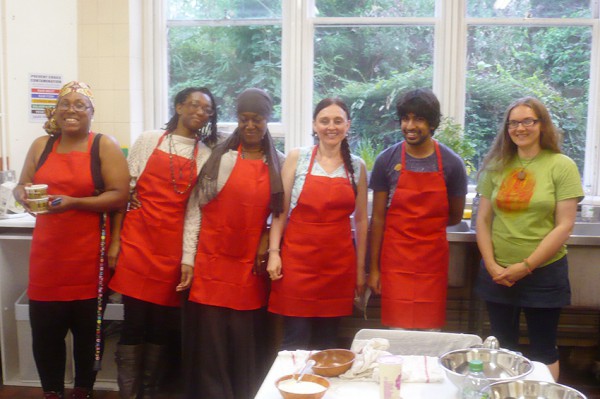 Granville Community Kitchen is a community led project in partnership with various local organisations. LCNC is leading this initiative based on the belief that everyone has the right to fresh, good quality, healthy food that does not cost the earth.
Granville Community Kitchen is empowering community through food. We are building an ethical, sustainable, local and culturally diverse food hub, offering food centred activities, services, education and training. We will be accessible, family friendly and open to all sourcing our food from local urban agriculture projects, micro food producers and other ethical food businesses.
Website: https://granvillecommunitykitchen.wordpress.com
Contact: granvillecommunitykitchen@gmail.com
Grow Heathrow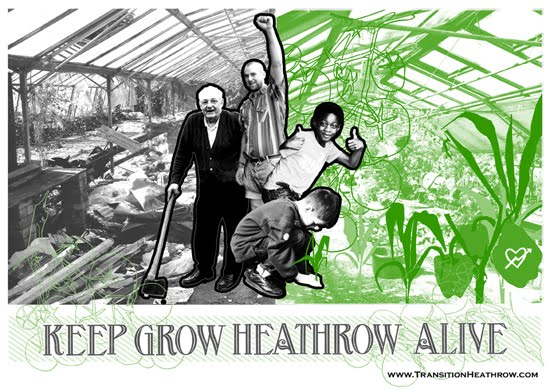 On March 1st 2010 Transition Heathrow members swooped on an abandoned market garden site in Sipson; one of the villages to be completely tarmaced to make way for a third runway at Heathrow. 30 tonnes of rubbish were cleared and over two years later the site has been transformed from a derelict mess into a beacon of community strength and a great example of how to live sustainably on this planet.
The site is a hub for local residents and environmental activists to share knowledge and practical skills such as organic gardening, permaculture design, bicycle maintenance and wood and metal work. They are also now well on their way to a position of self-reliance, producing their own food, solar and wind power, using rain water to feed the plants as well as using rocket stoves and compost toilets.
Grow Heathrow is located at Vineries Close, Sipson, West Drayton, UB7 0JH. They are open every day and arrangements can be made for overnight stays.
Website: http://www.transitionheathrow.com/grow-heathrow/
Contact: info@transitionheathrow.com or call 07890751568.
London Community Neighbourhood Co-operative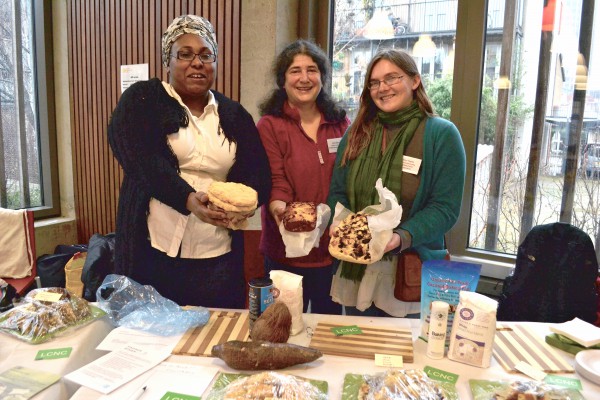 London Community Neighbourhood Co-operative (LCNC) is a model of living differently in London that aims to be socially, environmentally and financially sustainable. We are a collective of ordinary Londoners building a community on a solid foundation of community principles such as mutual responsibility, valuing understanding and respecting diversity. The project will create sustainable well being in the urban environment of London by improving lives through an innovative use of space and choosing to live as committed and caring neighbours to each other.
LCNC believe growing, processing and distributing food locally is perhaps one of the most important movements of our time. We believe that everyone has the right to fresh, good quality, healthy food that does not cost the earth! LCNC believes the key steps in developing a more sustainable local food system that ensures no one goes hungry requires comprehensive food education from seed to plate alongside a transformation in urban agricultural practices and access to good food. To this end our project Growing Otherwise, will encourage and develop: Community gardens, community food co-operatives, buying groups and vegetable box schemes. Granville Community Kitchen provides low cost healthy food, a space for community activities and ongoing training opportunities for volunteers and staff in all aspects of food including nutrition, food hygiene and safety, cookery and catering skills.
Website: http://www.lcnc.org.uk/
Contact: info@lcnc.org.uk