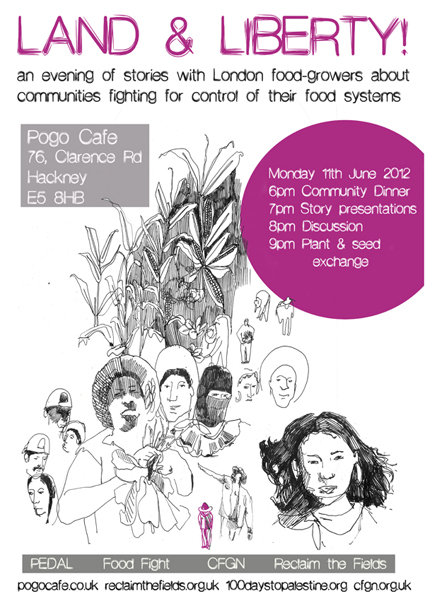 Land & Liberty!
an evening of stories about communities fighting for control of their food systems
Pogo Cafe. 76, Clarence Rd, E5 8HB
Monday 11th June, 2012
6-9.30pm
London food-growers share their stories of working with communities in Ljubljana-Slovenia, Jaos-Palestine, Chiapas- Mexico, and Havana-Cuba.
6pm Community Dinner (come and eat food from London community gardens and cooked by Food Fight)
7pm Story presentations
8pm Discussion
9pm Plant & seed exchange
What can we learn? How are these methods relevant to our own organising and food growing? What do these stories inspire us to do?
Reclaim the Fields, PEDAL, Community Food Growers Network, Food Fight
www.reclaimthefields.org
www.100daystopalestine.org
www.cfgn.org.uk
www.pogocafe.co.uk