Written by Santa Pedone of Reclaiming our Spaces
It is well known how grassroots community organising often falls into fragmentation and in so doing it weakens the potential impact of any well thought-through campaign. It was from this awareness that the Reclaim Our Spaces (RoS) coalition, was initially born. On 25 June 2016 a number of grassroots community groups gathered, realising that a concerted effort was required, in order to put the protection of community spaces on the agenda of planning authorities and raise awareness of development pressures.
As many seasoned community activists and campaigners are well aware, overcoming fragmentation in grassroots movements is not an easy task. In the case of community spaces, fragmentation in a London context comes from the huge variety of campaigns, communities and spaces with different purposes, ownership and management arrangements. There is also the added complexity of diverse London neighbourhoods, where campaigns set in the suburbs do not enjoy the same visibility as those set in central areas. The diversity makes it difficult to see the 'big picture' and realise the many commonalities that all these community groups share.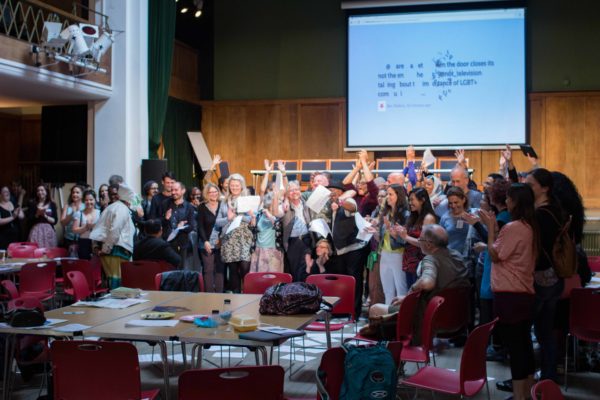 Some people expressed perplexity at the need for a London-wide campaign to protect community assets, because they only regarded their local authority as the main authority to which to address their concerns. Others saw immediately the many shared problems across London: from the skyrocketing rent increases to local authority cuts, from short term leases (which make it difficult to secure funding) to the simple fact that community land use cannot compete against residential land use, if we value land use in terms of investment and profit.
A successful example of what community organising can do at a London-wide level is the Just Space network, from which RoS stems. Just Space has been working towards the objective of bringing together local groups at the metropolitan level for 10 years now and positive results can be seen, especially in last year's publication Towards a Community-Led Plan for London, which seeks to reclaim the right of community groups to be part of the process of writing up the new London plan, rather than being mere consultees.
The Reclaim Our Spaces coalition does not want to replicate what Just Space already does, but should be seen as a fortunate encounter between Just Space and The Ubele Initiative – a social enterprise which contributes to the sustainability of the UK African Diaspora community. RoS aims to address the sense of loss felt by many of London's local communities – loss of small businesses, community centres, music venues, libraries, pubs, open spaces and public spaces, youth centres, land for community food growing and street markets – and the need for collaboration between various different social struggles (equality based groups, class struggle etc), which normally do not work together. Reclaiming lost community space in London and protecting those under threat must be a collaborative effort, if it is to be successful.
The Reclaim Our Spaces manifesto was thus born from the need to pin down what all the different campaigns on reclaiming community spaces in London had in common, despite individual differences. The manifesto focuses on three main areas of action. The first two focus on designing grassroots activities enabling us to reach out and connect to the many current campaigns on community spaces and raising their visibility through tools such as the creation of the digital platform, Just Map.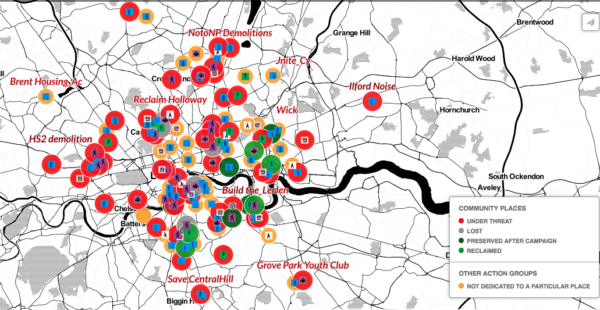 The third area of action is influencing the London Plan around some key policy proposals, which are developed in detail in the Community-led plan for London mentioned above. To provide a sense of these proposals, here are two of the most important ones.
First of all, helping produce a shift in thinking so that access to, and the value of community spaces is not based on income generation but on the social value of the, community space. In order to do so, social impact assessments should be put in place when a community space is under threat of closure and the current London Plan does not provide adequate tools to evaluate the social value of community spaces. Also, the social impact assessment  as the equality impact assessments (already in place to some extent) should be given greater weight in planning decisions, because at the moment EIAs are often bypassed by other planning considerations, as seen in the case of Wards Corner redevelopment.
Another crucial proposal is for the next London Plan to adopt policies which take into account "the irreplaceability" and uniqueness of community assets which prove to be of particular value to the community.  This stems from the awareness that the history and social value of many community spaces cannot be moved or replicated by simply rebuilding them elsewhere, as the case of the Southbank skatepark has shown.
Coalition building in London will not happen overnight, but working on making London's diversity a strength instead of a cause of fragmentation, is the only possible way towards achieving this vision and the rationale for setting up the RoS coalition.
To sign up to the RoS manifesto and add their group to the digital map, look us up on change.org or type www.change.org/p/reclaim-our-spaces-manifesto. To be part of the mailing list, please write to Reclaim-Our-Spaces_London@googlegroups.com