This summer Community Food Growers Network welcomed Detroit activist, food grower and artist Antonio Cosme to London.
As rain drizzled on, without relent, for the hours and days that led up to our open-air event, morale dipped as it looked unlikely that after weeks and months of ideas, collaborations and enthusiasm we would be able to run this event. But after two hours with City Airport security and a huge save from the incredible Cafe Cairo in Clapham North, we made it happen.
With dampened clothes but high spirits, we piled onto the comfortably laid out cushions and  stools, with the soft scent of burning herbs characterising the back room of the South London bar. Antonio was welcomed to a room of food growers, academics, students and activists from a breadth of different movements and schools of thought who had all come together to get to grips with the essential resources that govern the human body and hence unite all struggles: land, food and water.
Access to land and water couldn't look more different from Detroit to London. In Detroit, a city where supply and demand for land can be artificially engineered to combat its historically low value, home ownership is no indication of a higher class. Yet, water bills which cost thousands of dollars per year deny running water to those who can't afford to spend around a third of their salary on it. Meanwhile in London we run we rarely fear for our access to water, and for many buying land is as much a myth as owning a home.
Yet exploring the root causes of Detroit's water shut-offs alongside those of the UK's land distribution structure and its resulting nationwide housing crisis, it's clear to see that whilst the battles are different, the wars waged upon the poor, on people of colour and on migrants, are the same the world over. Privatisation in the UK doesn't mean inaccessible running water – yet – but we can see from the story of Detroit that the effects of neoliberal approaches to public services can be life-threatening.
Whilst in Detroit access to land means that food-growing projects can capture the land and comfortably settle in, in a global system of artificially cheap food and rising costs of living, making living wage as a farmer still seems out of reach. Projects such as Feedom Freedom Growers were highlighted to show that community food growing is thriving in the city, but the threat of gentrification looms over Detroit just as it does London.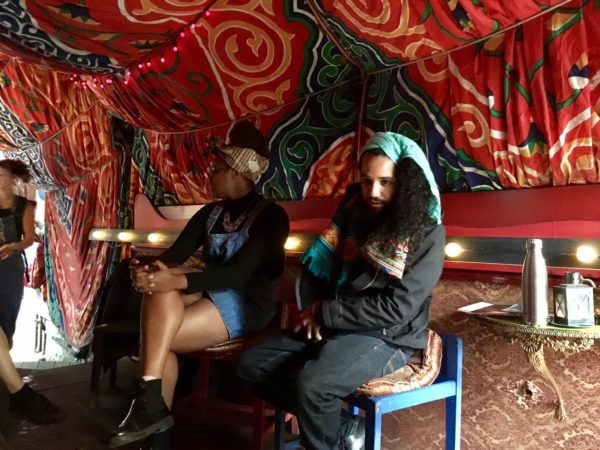 In a capital city whose wealth sprawls obnoxiously across the world market, drawing parallels to a neglected town like Detroit may seem obscure. Yet after hours of conversation and reflection with Antonio Cosme, it seemed clear that from gentrification to climate change a colonial, capitalist mindset lay at the root of our issues internationally. Celebrating and reinforcing the work of international allies is essential to fighting these battles on the micro and meta levels, and we hope that more exchanges can be facilitated so that we can continue to learn from our counterparts in the US and beyond.
A special thanks goes out to May Project Gardens, Loughborough Farm, Skin Deep Magazine, Take Back The City and New Economy Organisers Network for helping make this event possible.
Check out Feedom Freedom on Facebook and find out more about Antonio's work here. To see this piece in print along with the rest of this Summer's edition of The Plot email info@cfgn.org.uk or download it here.