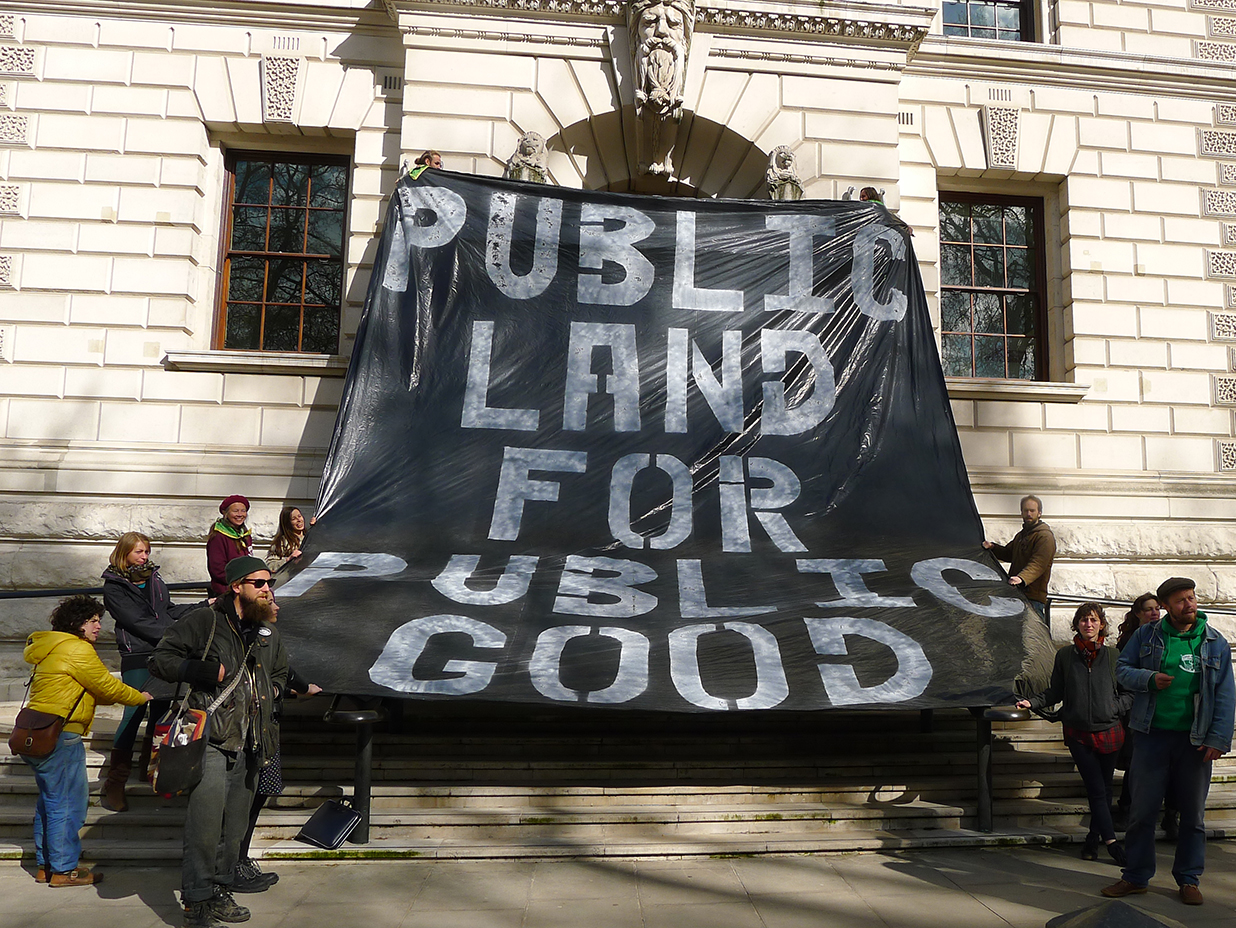 The Community Food Grower's Network (CFGN), in collaboration with the Landworker's Alliance, dropped a banner over the Treasury yesterday calling for a stop to the government's austerity sell-off of public land.

The action united urban food growers and rural farmers to respond to the increasing privatisation of land that limits long-term access to land and resources necessary to create a sustainable, fair, affordable food system.
Since 2010 George Osborne has made £37bn of privatization sales under which public food and farming assets have been regarded as any other commodity to be bought and sold. Local authorities have faced increasing pressure from the Government and Treasury to raise funds through the sell-off of public assets in order to make up for cuts to central government funding for public services.
Elizabeth Bragg, a community outreach worker and food-grower, spoke at the event saying that, "All Londoners have a right to nutritious and affordable food, decent homes, and access to community space. Land is at the centre of these intersecting struggles. We've seen how the financialisation of land, established by the policies of George Osborne and the austerity government, has made some of our most basic human needs unattainable. Short-term sell-offs will not provide sustainable economics, healthy communities and a dynamic city for future generations."
Food growers from youth groups, community kitchens, and organic market gardens across London gathered at the action to mark La Via Campesina's 'International day of Agrarian Struggle'. Food producers in over 70 countries mobilized to highlight threats to the livelihoods of 200 million ecological and family farmers worldwide, including those engaged in urban agriculture.
The action highlights CFGN's current campaign asking London mayoral candidates to include policies that support sustainable food-growing and other community driven projects in the new London Plan. The petition asks that each local authority identify and protect land for community food production and training centres to strengthen local economies, create jobs and increase access to green spaces in the city.
The policy recommendations come after London signed up the Milan Urban Food Policy Pact in October last year with 119 other cities. The agreement outlines how city government bodies have a key role to play in using public resources and infrastructure to build sustainable food systems for healthy diets as over half the world's population now lives in an urban environment.
ENDS
Notes