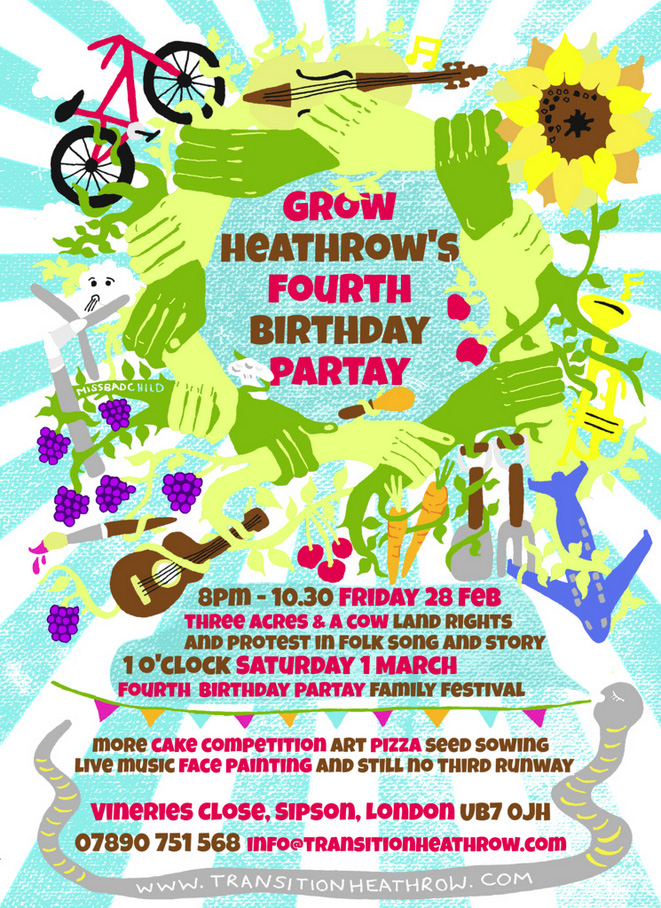 We are all heading west to help Grow Heathrow celebrate their fourth birthday party – do join us…..
Saturday 1st March from 1pm at Grow Heathrow
Plus Pre-Birthday performance, 'Three Acres and a Cow' Land Rights Performance, Friday 28th February from 5pm at Grow Heathrow
We're breaking last year's record of over 100 pizzas in our wood-fired clay oven, with a bigger feast, more face painting, seed sowing, arts, more live music and of course the famous bike-powered sound system. Bring your friends and family, and come on down…
See you there!
Plus, check out our legal update here and come down to site to check out some of our 2013 additions such as the finished straw bale house, artistic totem pole, the new gasifying wood burner and help us kick off our 5th year with a bang.
More info and address/directions here:
http://www.transitionheathrow.com/grow-heathrow/
info[at]transitionheathrow.com